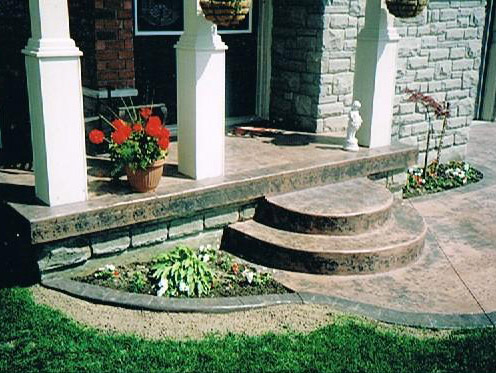 With concrete installations there are various types of concrete that you can choose from. Aside from making your concrete look more lovely, different types of concrete have different benefits! Coloured concrete can transform your space from plain to amazing! It can be installed in different patterns and colours to reflect light for areas that get too hot in the summer or to simply blend in with nature. Stamped concrete is an easier and cheaper way to mimic the look of certain stones, tile, brick or even wood! It is concrete made for pool decks, driveways, entries, courtyards, and patios. With a variety of colours and patterns to choose from it's the most economical way to get the results you want! We also offer exposed concrete is exposed aggregate concrete which homeowners lately have taken a real liking to! It can give a granite or marble look when polished over and this is why exposed concrete adds to the beauty of your home by giving it a stylish look. The exposed aggregate surface is obtained by placing concrete and then removing the outer 'skin' of cement paste to uncover decorative coarse aggregate. It serves to be skid proof and very durable.
We offer all three types for concretes for almost all areas of your home:
Backyards
Driveways
Walkways
Patios
Pool decks
And more!
Alliance Concrete & Interlock is your go to concrete company in the Hamilton, Ancaster, Stoney Creek, Grimsby, Burlington, Brantford and surrounding areas. We promise great value at competitive prices. Get in touch with Alliance Concrete by phone or email & request an on-site visit.